If you have read several pages at this recipe site, you undoubtedly are aware of the Amish Recipes: Chocolate-Covered Candy candy book recently published.
It took a lot of testing and tasting to perfect those recipes. I wanted to get them as perfect as possible. (And like many people, I love taste-testing candy!)
Sometimes there is an extra benefit — an unanticipated new candy recipe separate from the one being tested.
So it was with Chocolate Sunflower Seed Clusters.
And now there's another one, Cocoa Candy.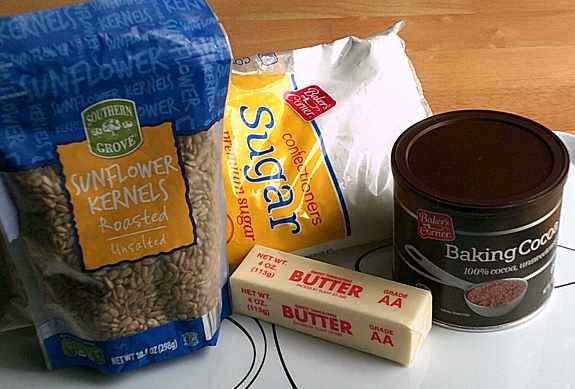 Here is the Cocoa Candy story. (The recipe follows.)
While talking to my sister, Anna, one day, I asked about chocolate centers for chocolate-covered candy. My thought was a chocolate center with a different color or taste than the chocolate coating. And perhaps also a different texture.
Her response was, "That would be interesting!"
Now, just so you know, Anna owned her Amish country store for many years. In the store, she sold her homemade Amish-recipe candy — including chocolate-covered candies.
With that kind of encouragement coming from that type of authority, I plunged into creating a chocolate center.
The first try was a mess.
My thought had been to blend cream cheese and baker's cocoa powder to get a chocolate of lighter color and different taste. Then add powdered sugar until the candy was firm enough to shape and dip.
The result was too chocolaty. And the cream cheese taste wasn't quite what I had expected. Also, it was too sweet; it took too much powdered sugar to firm the candy.
(When a chocolate lover declares something to be too chocolaty, you know something has got to change!)
For the next try, the cream cheese was dumped in favor of butter. And the amount of cocoa was halved.
It was good. Very good. Delicious, in fact. (It is the recipe you find a bit further down — certainly a winner.)
After it was chocolate-coated, however, the taste wasn't quite the same. The recipe needed a tweak. Then it became amazing enough for the upcoming book.
So now there are two recipes:
There's the amazing chocolate-covered chocolate center recipe. That one is for the book.

And there's the delicious Cocoa Candy recipe for eating without chocolate coating. The recipe is published in this article.
The delicious perfection of the Cocoa Candy was made even better with a small amount of sunflower seed kernels. In the recipe, that ingredient is listed as optional — for people who prefer not to have seeds in their candy.
Cocoa Candy
Here is the Cocoa Candy recipe.
Cocoa Candy
(Evolved in the author's kitchen.)
2 tablespoons softened butter
1 tablespoon baking cocoa
1 tablespoon sunflower seed kernels (optional)
1/2 cup plus 1 tablespoon powdered sugar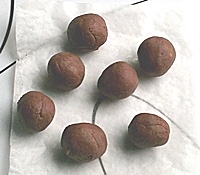 Cream together the butter and cocoa until they are well blended.
If sunflower seed kernels are to be added, mix them in now.
Add the powdered sugar one or two tablespoons at a time. Blend well with each addition. (Be prepared to use a bit less or a bit more powdered sugar than the recipe calls for to end up with your desired consistency.)
Line a plate with wax paper or coat plate lightly with butter.
Shape the candy into bite-size pieces and place them on the plate. The shapes may be whatever you prefer — examples are balls, logs, squares, or a shape that makes you smile.
The cocoa candy is ready to eat.
If not eaten immediately, cover the candy to keep it from drying out. It may be refrigerated.
I have not tried finely crushed nuts in lieu of sunflower seed kernels. If you decide to give it a test, please use the comment section below and let us all know what you thought of the result.
As you can see, sometimes really good things happen when recipes are tested.
In this taste-testing process, an added bonus was this Cocoa Candy recipe that evolved during the chocolate-covered chocolate recipe testing. And as mentioned earlier, Chocolate Sunflower Seed Clusters was another good thing from testing previous flavors.