Recipe from
https://WillBontrager.com
Cocoa Candy
(Evolved in the author's kitchen.)
2 tablespoons butter
1 tablespoon cocoa
1 tablespoon sunflower seed kernels (optional)
1/2 cup plus 1 tablespoon powdered sugar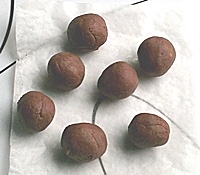 Cream together the butter and cocoa until they are well blended.
If sunflower seed kernels are to be added, mix them in now.
Add the powdered sugar one or two tablespoons at a time. Blend well with each addition. (Be prepared to use a bit less or a bit more powdered sugar than the recipe calls for to end up with your desired consistency.)
Line a plate with wax paper or coat plate lightly with butter.
Shape the candy into bite-size pieces and place them on the plate. The shapes may be whatever you prefer — examples are balls, logs, squares, or a shape that makes you smile.
The Cocoa Candy is ready to eat.
If not eaten immediately, cover the candy to keep it from drying out. It may be refrigerated.
Copyright Will Bontrager Software LLC