Our grandson had a birthday party at our house. There were cupcakes and other yummies. (Yes, of course a big-boy at age six gets cupcakes on his birthday!)
As things happened, there was some chocolate frosting left over after the cupcakes had been decorated.
The leftover was set aside. My "make do with what you have" permanently-fixed approach to life prefers nothing be thrown away that might have a use. (Or provide an excuse for a cooking experiment.)
What Happened to the Left-over Frosting
The happenstance of having extra frosting was fortuitous. The next time we made candy, it included a chocolate frosting peanut butter candy center.
Altogether, four recipes were tested, only one contained frosting:
Chocolate frosting/peanut butter.
Cream cheese/Mexican spice.
Cream cheese/cinnamon.
Cream cheese/peanut butter.
The frosting/peanut butter was the new, impromptu recipe. The rest were variations of previous recipes to see if I could make them just a bit better.
Four Candy Center Kinds —
Before Chocolate
You can see the four flavors in the photo — four kinds of candy centers ready for dipping in chocolate.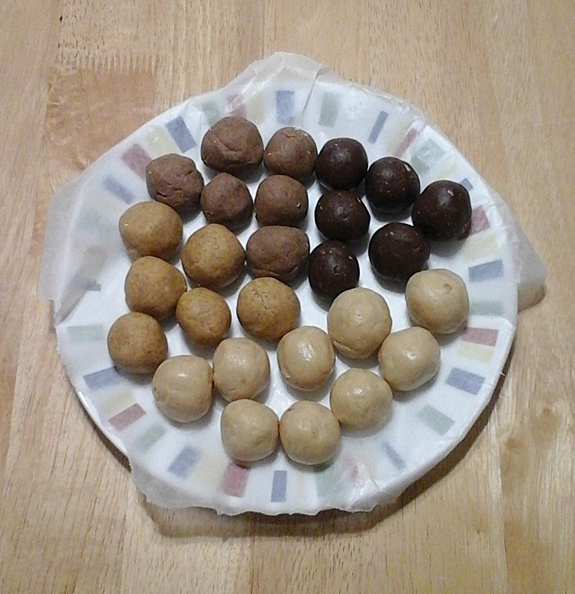 Here is how the candy centers are arranged on the plate.
The darkest is the chocolate frosting/peanut butter center (at the 2‑o'clock position on the plate).
The next darker is the cream cheese/Mexican spice (11‑o'clock position).
Then, the cream cheese/cinnamon (9‑o'clock).
And the lightest, at the 5‑o'clock position, is the cream cheese/peanut butter center.
Long Drying Time
After dipping, the four candy center recipes being experimented with were allowed to dry about 24 hours.
(Let me tell you, it is really, really hard to restrain oneself from taste testing before the chocolate coating is dry. The ambient air has a chocolaty aroma and keeps enticing you.)
Ready for Tasting — Finally
Finally, they were ready.
The chocolate-covered chocolate frosting/peanut butter candy was tasted first. Yes, it was yummy!
You bite into it, perhaps with eyes closed, and the flavor whooshes into your mouth like a magical potion of taste. There's a pause, then, to enjoy the first-bite sensation. As the candy slowly melts in your mouth, you are immersed in precious moments of chocolate taste.
Each of those recipes will be in the Amish chocolate-covered candies recipe book.
One Perfect; Others Need Tweaks
The cream cheese/peanut butter recipe is now perfect. The frosting/peanut butter needs another test, not because it isn't perfect, but because my excuse to taste it again is to make sure it really is as good as I can get it. The other two need ingredient quantity tweaks.
Fortuitous mistakes happen. This time, leftover chocolate frosting was a stimulus for an entirely new chocolate-covered candy recipe.
And, hooray!, we have one more recipe for the book.