Pancakes Are Special
Amish-recipe pancakes provide a sense of wholesomeness approached by only a few foods. They are marvelous — pleasing, good tasting, and so satisfying!
Here are variations you may wish to try with the recipe further below.
Use different kinds of flour.
Add sunflower seed kernels or nuts to the batter.

Sunflower seed kernels are an often-requested ingredient at our house.

Add oatmeal or other whole grains, or wheat bran, and adjust the flour as needed.
Adding fruit (drained) directly to the batter can be good — blueberries for example, or apple pieces.

A few chocolate chips in the batter might be fun for kids and for adults who feel like pretending to be a kid.

These are really, really delicious — and you don't have to pretend to be a kid to enjoy them. A handful of chocolate chips in the batter is fast becoming a standard here at our house.

If you add chocolate chips to the batter: The chocolate chips will melt, get gooey. Chips in the batter that touch the hot surface may leave a smear of chocolate on the griddle or frying pan.

Therefore, if you are making pancakes both with and without chocolate chips, it may be prudent to fry the batter containing the chips last.

Top a pancake with an alternate flavor of syrup, or honey.
Fruit or fruit preserves can be a wonderful topping — perhaps with a dab of whipped cream. (Try applesauce, perhaps with a bit of cinnamon.)
Top with a gravy — brown gravy, tomato gravy, or chicken gravy.
A Big Batch
The Amish pancake recipe on this page is a big batch. But the unused is storable.
Leftover pancakes can be eaten cold or at room temperature. If heating is desired, a hot skillet can be used, a microwave for 30 seconds or so depending on pancake size, or even a toaster if the pancake is small and firm enough to easily move in the toaster slot.
Your First Amish Pancake Recipe
Here is an Amish pancake recipe to get you started.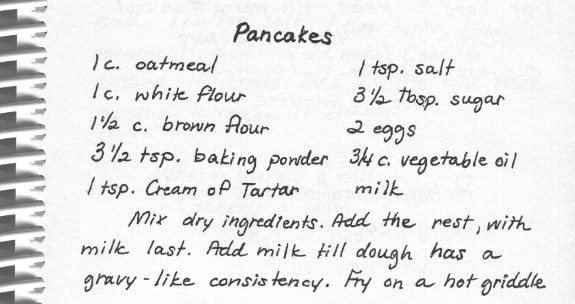 From My Family's Recipes and published here with permission.
As with most Amish recipes, it is assumed the cook is Amish. It is taken for granted that some things are known without being told.
"Brown" flour mentioned in the photocopied recipe means unbleached whole wheat flour. The amount of milk is ambiguous and has been specified in the revised recipe, below. Not much other revision was required.
Amish Pancakes
Below is the Amish pancakes recipe updated for a modern kitchen.
Amish Recipe Pancakes
(Updated for modern kitchens.)
1 cup oatmeal
1 cup white flour
1-1/2 cups unbleached whole wheat flour
3-1/2 teaspoons baking powder
1 teaspoon cream of tartar
1 teaspoon salt
3-1/2 tablespoons sugar
2 eggs
3/4 cup vegetable oil
2-1/2 to 3-1/2 cups milk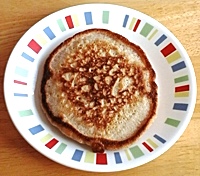 In a mixing bowl, mix the dry ingredients.
Add the eggs and vegetable oil and stir until much of the dry ingredients are moistened.
Add the milk, a little at a time, until the dough has a gravy-like consistency. It is okay if it is slightly lumpy. The thinner the dough, the thinner the pancake — and vice versa.
Lightly grease a hot frying pan or griddle, medium to medium-high heat.
Spoon or pour pancake dough onto the hot surface until it looks like the resulting pancake will be about the right size. If uncertain, start with a third cup of pancake dough for one pancake.
When the bubbles on top of the pancake pop and don't close, use a spatula and turn the pancake over. (The amount of time before turning the pancake over can vary from a minute to three minutes, depending on the amount of heat and the thickness of the batter.) Do the second side until browned, which will be about the same amount of time as you did the first.
Put the pancake on a plate. Add toppings as you prefer and enjoy an Amish recipe pancake you made yourself.
Yields 16-18 pancakes at 1/3 cup of batter for each, the count depending on thickness of the batter.
Note: The pancake batter gets thicker as it sits. Stir in more milk if it gets too thick. More milk, of course, will raise the yield.
It should be noted, of course — if the griddle or frying pan is large enough for more than one pancake, go ahead and use the surface to fry multiple pancakes at once.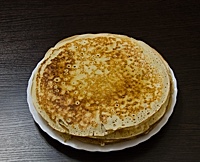 Mom would make pancakes large enough to fill a breakfast plate from edge to edge.
During teen-age years — working in the fields and still growing fast — I had a huge appetite. If a pancake didn't quite fill the entire plate, I took another pancake to cut into strips and lay around the edge of the first pancake until it did cover the entire plate!
Then came the brown or tomato gravy, or perhaps syrup. It was ladled or poured on until the pancake was entirely covered.
After that, a huge smile and an enthusiastic digging in.