Some time ago, there was a need for me to come up with a low-glycemic, high-fiber snack food, something to grab and eat on the go.
With the given parameters, my thinking was that the form of the food pretty much had to be something baked and cut into size.
Oat flour would work for the dry ingredient, I decided. None of the oat flour carbs are from sugars. Plus, oats are gluten-free. And high in antioxidants.
It's expensive flour to buy, though, compared to wheat.
Making Oat Flour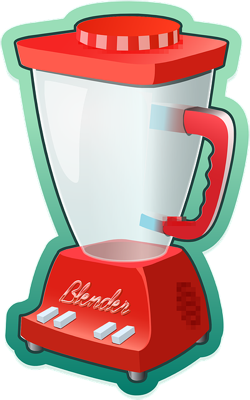 Thanks to a long-ago memory of dad grinding grain for use in the house, the "making do with what you have" approach to life instilled during my Amish upbringing nudged me to make my own flour. Oat flour could be made from whole-grain oatmeal, which is always available at our house.
With a blender at hand, there was no need to invest in a grinder like my dad used — a grinder run with a gasoline-powered engine that was most efficient when grinding at least a bushel of grain.
Several tests were required to find the optimum quantity of oats for the blender. And several more before I was pleased with the consistency of the flour.
Oat Flour Recipe
Below is the result — a home-made oat flour recipe.
Home-made Oat Flour

1/2 cup uncooked 100% whole grain oatmeal — old fashioned rolled oats
Put the oatmeal into a blender.
Pulse for 20‑30 seconds. Depending on the blender, and how course or fine you want the flour, you may need to pulse somewhat less or a bit more.
That's it. You have home-made oat flour.
Oat flour can be stored like other flours, in a dry place, preferably cool.