On a planet proved again and again to contain no life (our neighbor), there may be life intelligent enough not to be detected.

Wzzt, the Martian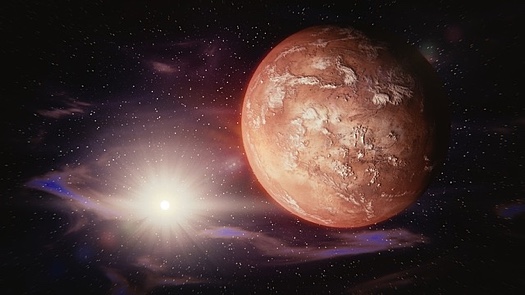 If they were translated, the whistles and grunts would have meant, "Wzzt, it has been decided that you will welcome the interlopers."
Wzzt's protest sounded like a wounded pig. A foreign listener would not have been much deceived.
"Base, I see tracks."
Mars. Every dream, every night since he could remember, from little boy to adult at expedition training, Sam dreamed about Mars — although he could never recall specific details. And here he was.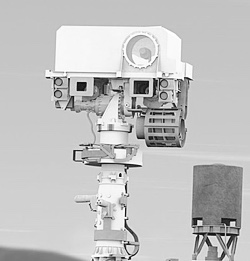 "Well, I hope you see tracks. You're following Opportunity's path."
"No, these are light tracks on top of what the dust storm left way back in 2018. Round, about the width of my hand, with marks that might be toes or claws."
"Well, take some pictures and we'll figure it out when you get back."
Joe smirked, thinking his trainer was making a fool of himself. On this, their very first Mars external operation. He gloried in anticipation of discrediting Sam. Joe had seen the tracks, too, but Sam reported it to base before he had a chance to do so. For once, he was happy not to be first.
It's impossible, of course, Sam thought. Decades of satellite and robot explorations had proved Mars habitat is inimical to life more complex than bacteria. The track must be something else.
Sam and Joe, trainer and trainee, proceeded along Opportunity's path, approaching the base of a cliff. In the shadow of the cliff, the two stopped short.
Sam forgot to draw a breath until his body reminded him.
"Base, there is a creature in front of us. It is about half my height with a roundish body, no neck, three short legs with feet that could have made the tracks we saw earlier. It waddles. And it is slowly approaching us."
"Shit. Pull your weapons, but don't shoot unless you are in danger. Raise the gain of your mikes. And activate those external speakers we were told we had to have."
The thing waddled to a comfortable distance, about five times its own height.
It said, "The first humans have arrived on Mars."
Joe, wanting to be first with the asounding fact, reported, "It speaks English!"
Sam thought, "Shit. This one has tech."
He followed his thought with, "Base, it played a recording of our arrival transmission to Earth. On our very own comm channel!"
Base responded with, "Yes, we heard it. It seems we have a spheroid waddler with enough tech to intercept our radio transmissions to Earth, record them, and play them back to us on our comm channel. What the hell is it!"
Joe felt deflated. "Well, it did speak English!"
Base ignored Joe, following Sam's lead like it always had during training and practice.
The thing said, "It speaks English! Base, it played a recording of our arrival transmission to Earth. On our very own comm channel! Yes, we heard it. It seems we have a spheroid waddler with enough tech to intercept our radio transmissions to Earth, record them, and play them back to us on our comm channel. What the hell is it! Well, it did speak English!"
Base told Sam, "That was not a recording. The same voice repeated what all three of us said. There is high intelligence."
The things said, "Wzzt."
Base, "What the hell was that!"
Sam, "Base, I think it refers to itself, it's species or perhaps it's name."
Sam bent his knees, pointed at himself, and said,"Sam."
The thing raised one of its legs and clumsily pointed at itself. "Wzzt."
"Base, it seems that it's name is however that word is pronounced." Sam chuckles and continues, "Maybe we can introduce vowels to its language."
Wzzt used a leg to point at Joe.
Sam looked at Joe. Joe was shaking.
For the millionth time Sam wondered how Joe got past the psych tests this mission put them all through. Maybe somebody really was bought off, someone who knowingly endangered the first manned mission to Mars by letting Joe slide into the team.
Sam activated Joe's speaker and said, "Joe."
Wzzt said, "Sam. Joe. Follow me to my cave," turned around, and started waddling back the way it had come.
Sam grimmaced as the thought about psyche tests flitted through his mind. An utterly irresistible compulsion contrary to his innate sense of integrity had compelled him to ensure without doubt that he would be posted as head of Mars External Operations.
Sam said, "Base, it originated something. None of us ever said 'Follow me to my cave,' or at least not on a radio. It must have learned by listening to us.
Base, "Follow it. But carefully!"
Sam hurried forward, saying "Yes, Base."
But Joe didn't move. He seemed to be rooted.
Suddenly, Joe yelled, "It's an abomination! Humans are the only intelligence! I'll rid the world of this mad disease!"
Joe raised his weapon to do just that. Base, alert, deactivated it before it could fire.
Base, "Sam, proceed. Please be carefull. I don't want to lose you."
Base continued. "Joe, stay where you are. That is an order. Sam will accompany you back to base on his return."
Then, "Sam, this is private. As you suspected, there were psyche test anomalies. Confirmation came in just before you met Wzzt, however that thing is pronounced."
"I realize you have no first contact training," Base continued. "Who would have thunk you'd need it; here, of all places! Use your own judgement and do what you think is right. If we delay for a partner to join you, this opportunity may be lost."
Wzzt led the way to the cliff.
"Base, there's a small hole in the cliff, behind a jut and under a rock shelf. Surveilance would have found it only by being within sight on ground level.
Wzzt held up a foot, a clear signal to stop. Then pointed his foot toward the hole.
"This is my cave."
Wzzt lowered its foot, re-balanced itself, and continued, "If you come in, radio is lost."
"You are welcome to come in."
"Base, you heard Wzzt. It is civilized enough to give me a choice. I'm going in, if I can squeeze through that hole."
"I don't like this, Sam!"
"Base, you gave me authority."
"Agreed."
Wzzt entered the hole.
When Sam entered, it seemed as if the hole expanded to let him through.
Once inside, the light was dim. But he sensed it was a large cavern.
When his eyes adjusted to the dim light, Sam got a surprise. There was Opportunity, taken apart; but not haphazardly. The pieces were laid out in an orderly fasion, each piece labeled.
A dozen creatures of Wzzt's shape were standing along the wall.
"Base," Sam started. Then remembered he had no comm signal.
Two of the creatures along the wall stepped forward with an apparatus, setting it near Sam. A dial was turned.
Wzzt said, "Radio found."
Tentatively, Sam says, "Base, Wzzt tells me we have comm."
"Clear and no distortions, Sam."
"Base, Opportunity is in this cave. Taken apart. By experts. No wonder we couldn't find it after that dust storm. I'll send you some visual."
"Sam, are you okay? There are a lot of Wizzes in that cave."
"Base, they are friendly. They provided the unit that established our comm from within the cave."
"Sam! Joe has moved. He is running toward your cave. He's going inside."
Joe popped through the entrance hole. He grabbed Sam's weapon, pointing it at Wzzt. Before Sam had a chance to react, Wzzt shriveled into char.
Sam launched himself toward Joe to take him down.
Suddenly, he halted in mid-flight, suspended. He didn't and couldn't move. Neither could Joe, being frozen in a leaning-back defense stance. The two were in a static space of some kind, a total absence of motion.
One of the creatures walked over to Wzzt's ashes and collected them with a deep bag on a handle reminisent of a butterfly net.
The creature waddled over and forcefully put the bag over Joe's head all the way down to his shoulders.
In less than a minute, the bag was removed and Joe was able to move. He almost fell down, then regained his balance.
When Joe spoke, it was Wzzt's voice, "Sam, I am Wzzt. The Joe entity forfeited its right to exist when it tried to take my life."
The Wzzt/Joe bent, straightened, and twisted, as he got familiar with the new body.
"Humans have strange bodies."
Then from the radio, blared a frantic, "Sam! Base is lifting! The rockets are firing. According to the instruments we're headed for rendezvous with Orbiter."
"Sam, we have no control of the rockets or our trajectory."
"Sam? Are you there? Talk to me!"
Sam desperately wanted to respond. But he couldn't move. Nor could he make a sound.
"Base, this is Wzzt speaking through the body you knew as Joe. The life essence that was Joe is no more. It used its every effort to kill me, reducing my body to ashes."
"We will no longer tolerate you and your kind on or near our planet. Except Sam, who we have chosen to learn from."
"For decades we have watched you and learned about you. Monitoring established your Earth citizens to be capricious and destructive, at odds with each other, and focused on individual benefit, a mad melee reminding us of the animals that finally reduced themselves to extinction on this very planet you call Mars."
"Do not come back. If in the future Sam wishes to return to Earth, he will be provided with transportation."
The communicator was removed and Sam's stasis was released. He noticed his gun was fully charged. He felt normal, healthy, energetic.
He looked at Wzzt, who was still becoming familiar with his new body.
"What now, Wzzt?"
Suddenly, with a silent, thunderous mental bang, Sam remembered everything.
Wzzt said, "Now you remember, friend Zzzt. Your mission was a success. It will be a long time before humans land on our planet again. We will be fully prepared."
Sam/Zzzt suddenly felt awkward in his body, but quickly regained control.
In a moment, Zzzt emitted whistles and grunts that meant, "You know, friend Wzzt, they really are a strange species. There is little cohesion."
Zzzt looked around. All the creatures in the cavern, his people, his friends and some new ones, were ringed around him, one leg raised pointing at him in a silent salute.