Oat-flour Pancakes
(Evolved in the author's kitchen.)
1 cup whole-grain oat flour (can be made with oatmeal and a blender)
2 teaspoons baking powder
1/2 teaspoon cream of tartar
1 egg white
2 tablespoons oil
3/4 - 1 cup milk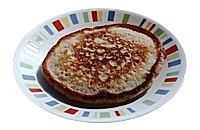 In a mixing bowl, mix the dry ingredients.
Add the egg white, vegetable oil, about half the milk. Stir until much of the dry ingredients are moistened and the egg has been well distributed.
Add the the rest of the milk. (Start with 3/4 cup altogether and add more if needed.) Stir until all is wet and consistent. The thinner the dough, the thinner the pancake — and vice versa.
Let the batter stand at least 5 minutes to give it a chance to get a little thicker. The oat flour absorbs moisture slower than may be expected. (The batter slowly keeps getting thicker. If you take a long time making pancakes, more milk may be added to thin the batter.)
When ready, lightly grease a hot frying pan or griddle, medium to medium-high heat.
Spoon or pour pancake dough onto the hot surface until it looks like the resulting pancake will be about the right size. If uncertain, start with a third cup of pancake dough for one pancake.
Let cook 3-6 minutes or until bubbles on top of the pancake pop and don't close. (Timing depends on how hot the skillet is, how thick the batter is, and how much batter is in the skillet.)
Cook the second side until browned. This should take a bit less time than the first side, maybe 4-5 minutes.
Put the pancake on a plate. Add toppings as you prefer.
Yields approximately 6 pancakes at 1/2 cup of batter for each — about 10 carbs per pancake. (Using almond milk instead of dairy milk brings it down to about 9 carbs each.)
Note: The pancake batter gets thicker as it sits. Stir in more milk if it gets too thick. More milk, of course, will raise the yield.